Though Jane Austen Regency Week 2015 has drawn to a close, I just couldn't wait to share it all with you! It was a very special trip for so many reasons. I got to meet up with six of the other authors from Jane Austen variations, the largest group of us to meet face to face to date! There is something pretty special about seeing friends you only rarely see in person and in meeting for the first time internet friends who you have never actually met. That was one of high points of the trip for me. 
On top of that, my husband came with me in celebration of our 25th wedding anniversary. How much better can it be, visiting a Jane Austen festival with my own Mr. Darcy? 
 The festival, held in Alton, Hampshire, kicked off with Regency Day in town and a street fair.
 We had the best location for our book stall, the corner where all the demonstrations and performances were held! Local dancers, including the cutest little girls dancing around the Maypole, a fencing school, and the Dandy Chargers velocipede group delighted us all with their displays.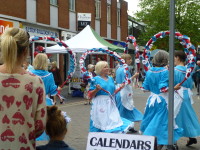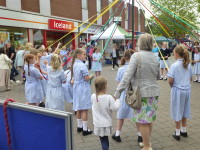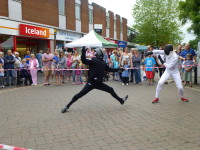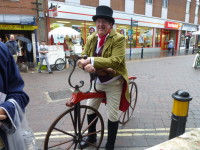 The mayor of Alton even stopped by for a visit!
One of the most exciting moments was getting all five authors of the Darcy Brothers together for a group photo. It was the first time all of us had physically been together! Hard to imagine that we actually wrote and published a book together and never physically sat in the same room together before it was done!
I could go on and on about the trip, but I best stop for now. Watch this space for more about our English adventures!