To celebrate National Black Cat Appreciation Day, I've got a delicious smattering of articles featuring cats in history!
---
Feline Friends
Lexicographer and writer, Dr Johnson, was a cat lover. It was whilst he was in residence at 17 Gough Square, London, that he owned his most well-known cat, Hodge. To this day a statue of Hodge, appropriately seated on a dictionary, forms part of a memorial to the great man, at the far end of the square where he once lived. 
Ah, Internets, how I missed you. An outage of just over 24 hours had me in full white-knuckle withdrawal mode. I don't know how the Harvey/Irma folks can stand it. Take, for instance, the staff of the Hemingway Home and Museum on Key West. Key West, like all of the Florida Keys, was smack in Irma's path, and the Overseas Highway, its sole road linking it to the mainland, was sure to be underwater leaving Key West without means of resupply. Residents were ordered by the governor to evacuate the Keys. The National Weather Service minced no words, warning that "nowhere in the Florida Keys will be safe" from Irma. Governor Rick Scott minced even fewer words: "You will not survive."
The nineteenth century news is filled with reports of hero pets rescuing their masters and mistresses from various catastrophes. Dogs routed burglars and saved children from drowning, while cats meowed the alarm when the house was on fire or when a family member had stopped breathing in their bed. Both cats and dogs were also known to intervene in cases of spousal abuse. For a battered Victorian wife, this animal intervention could sometimes mean the difference between life and death. 
Spinsters have long been associated with cats.  This was especially true in the Victorian era when the stereotype of the old maid and her feline dependents was so pervasive that an 1880 edition of the Dundee Courier not only declared that "the old maid would not be typical of her class without the cat," but that "one cannot exist without the other."  Like cats (who were generally viewed as being sly and self-serving), old maids faced their fair share of societal persecution.  Doomed to live in a state of "single blessedness," they were often seen as being eccentric or as having been soured by their "blighted hopes."
For a brief time at the end of the 19th century, Her Majesty's gunboat "Tickler" was the home of a mysterious cat by the name of Black Tom.  According to the ship's doctor, Gordon Stables, many on board suspected that Tom was a demon or an imp.  No one knew where he had come from, how he had managed to get on board, or who had brought him there.  He simply appeared one windy, treacherous evening when the sea was rough as the Tickler was crossing the Bay of Biscay.  At eleven at night, while smoking on the quarter-deck, Stables saw something as "black as Erebus" whisk past his legs.
In the early 19th century, at the Earl of Lucan's residence at Laleham, there was a very singular cat.  She belonged to Lord Lucan's bailiff, Mr. Smith, and had the "constant habit" of curling up on the rug before the parlor fire.  According to a story related in multiple 19th century British newspapers, as well as in author Edward Jesse's 1834 book, Gleanings in Natural History, after the death of her recent litter of kittens, this particular cat struck up a very close friendship with a mouse.
Born of humble origins in 1774, Robert Southey went on to become Poet Laureate of England from 1813 until his death in 1843.  A contemporary of 19th century Romantic poets like William Wordsworth and Samuel Taylor Coleridge, he was an incredibly prolific writer, both of poetry and of prose.  He was also a great lover of cats, as evidenced in his vast correspondence with friends and family
Cats in the Arts and Letters
Andrew Lloyd Webber's 1981 musical Cats was not the first production to feature a cast of dancers dressed in cat costumes.  Nearly one hundred years earlier, a ballet called Katrina made its debut at the Empire Theatre in London.  Arranged by choreographer Kattie Lanner and set to music by composer Leopold Wenzel, it featured two intertwined stories.  The first concerned the love affairs of a young student. The second—and far more interesting—took place in the Kingdom of Cats. 
 OK, I admit to being biased because I'm a bit bonkers when it comes to cats, but for me animals give a place soul – and the same is so for animals in books – their presence gives an extra dimension and by seeing how characters react to felines, give extra clues to their character. References to cats in particular can be found in classic literature from Charles Dickens to Henry James, Rudyard Kipling to Emile Zola.
Of course you do. After all it's why the internet was invented. But when do you think the cat meme was first invented? It may surprise you to know that it was the Victorian's who came up with the innovation of cute cats pics with a funny caption.
If you think the notion to slap cutesy epigrams on top of photographs of kittens originated with the internet, think again. Deranged cat pictures have been around since the early days of photography. Once humans got their hands on cameras, the dignity of the domesticated feline was forever doomed.
What is the significance of the "cat and the fiddle"?
There are several different explanations. 
One is that the cat is code for Queen Elizabeth I, and is a comment on her evasive behavior with foreign diplomats. She is famous for skillfully manipulating those emissaries sent by foreign princes to negotiate a marriage contracct with Elizabeth. Some believe this nursery rhyme is a comment on her ability to fiddle and pull the diplomates' strings and play with them as a cat does mice – especially as she never married and was famous for being the virgin Queen.
Cats put in their first appearance early on in Animal Tales (our Entrance Hall exhibition running until 1 November 2015) in the shape of a wonderful doodle of a cat drawn by Pieter van Veen in the margin of his copy of the 1602 edition of Montaigne's Essais.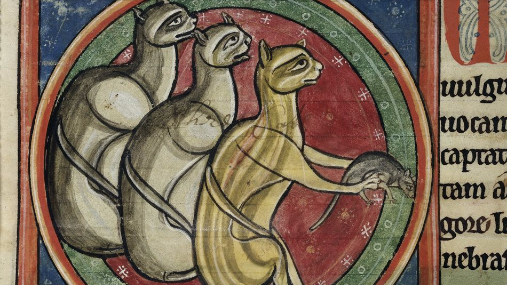 Some expressions concerning cats are well known, such as "Not enough room to swing a cat", or "Let the cat out of the bag", but what of some of the more unusual sayings. There were actually a surprising number, although few if any are still in wide parlance, which is a shame judging from the few that I've listed below.
As popular a pet as cats are in modern day households, it was the dog that dominated the home and hearth of the 18th and early 19th century.  Cats had their admirers, of course, amongst whom were such literary luminaries as Samuel Johnson and Lord Byron, but in general, their primary value lay in their ability to keep the premises free from vermin.
Gib or Gibbe is an old term for a cat, which was familiar to many medieval people and those in the following centuries, including Shakespeare.
"I am as melancholy as a gib cat or a lugged bear." —Shakespeare: 1 Henry IV., i. 2.
In the year 1553, during the reign of Edward VI, printer's assistant William Baldwin penned the first English novel ever written: Beware the Cat.  Before this time, all works of fiction in English of short-story length or longer were not original texts.  They were translations or adaptations from other languages, such as French or Latin.
The Cat
I can say with sincerity that I like cats; also I can give very good reasons why those who despise them are wrong.
A cat is an animal who has more human feelings than almost any other being. We cannot sustain a comparison with the dog, it is infinitely too good; but the cat, although it differs in some physical points, is extremely like us in disposition.
One does not have to be a fan of classical music to be familiar with the works of French composers Claude Debussy and Maurice Ravel.  The two rivals were part of the Impressionism movement in classical music, a movement inspired by Impressionist painters like Monet, Manet, and Renoir and poets such as Verlaine and Baudelaire.  They were also renowned cat lovers who famously allowed their feline muses to prowl at liberty amongst their papers while composing such masterpieces as Clair de Lune and Boléro. 
And that's not all!
Watch for Nation Cat day coming on October 29!