Getting a book written and published can be more complicated that it looks when real life decides to keep happening.
---
An alternative title for this post might be 'And Now You Know the Rest of the Story.'
It's been quite an adventure getting this one to the finish line. Seriously, this one has been like no other. To start with, I got half the book written, then chased a shiny plot bunny into a dragon den and got caught in that alternate reality for a while. Don't get me wrong, I'm glad I did. I love it there. But it did put this one up to a bumpy start. 
I got started back in on it, and then my dad had surgery. No gory details, we'll just leave it at it took two months to get past, two months without getting much writing done. On the heels of that, we took a trip and and anther month passed with no writing getting accomplished. 
So then, I focused in earnest and put nose to grindstone, getting this one edited. Literally on the day I thought I was finished, I took a step back (cue music here–with a little help from my friends…)  and realized that a MAJOR edit was still necessary. Those of you who followed along with the serial posting will notice a lot of material edited out of the final publication version. Never fear, it will live on in the bonus materials menu here. The process of getting the manuscript trimmed down to size was … ah … difficult … shall we say. Yeah … yeah … we'll just leave it at that and move on. Wanting to jump off a cliff counts as difficult, right? (Oh wait a minute–I DID that on vacation–but yeah, that's another post…)
That finally accomplished, then the final straw struck. Natural disaster. Seriously, not joking. As I sit writing this, I'm watching the radar as hurricane Harvey is bearing down on us. The news of it came out just after I submitted the files for preorder at Amazon and got locked into a deadline. The last time we had a storm like this heading for us, we ended up without power for 2 WEEKS. No exaggerating. So now I'm in a flurry trying to get the next two weeks of posts for the blog tour ready before the storm makes landfall tonight since I may be literally in the dark after that. 
No pressure right? I'd ask what else could go wrong, but yeah, my computer had major issues last night when I had that thought. My superhero husband got it working again, but now I dare not even think that, much less ask.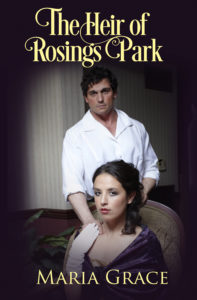 But, fingers crossed and hoping the creeks don't rise (literally in this case), here we are at launch day! 
It started out as The Heir of Rosings Park, looking like this. Not bad all in all, but I really love the new title and look that we came up with.
This will be the last of the Queen of Rosings Park books. So those of you who have been waiting to start the series until all the books were out, your wait is over! The first book Mistaking Her Character is Elizabeth's story. The second The Trouble to Check her is Lydia's. A Less Agreeable Man is Mary's story.
Now for the question you all have been asking: Is there a giveaway?
Yes there is.  Leave me a comment below for a chance to win an ebook version of A Less Agreeable Man. 
Congratulations Emma, winner of the ebook!
If you'd like to whet your appetite a bit, you can find the posted chapters of the original version here for the next couple of weeks, then I'll move them to the 'Bonus Material' menu.
I'll be posting other deleted scenes here over the next month, so keep watching this site!