I'd like to welcome Abigail Reynolds today. We'll be discussing just how likely was a Napoleonic invasion of England during the regency era. 
---
"[France] must destroy the English monarchy, or expect itself to be destroyed by these intriguing and enterprising islanders…Let us concentrate all our efforts on the navy and annihilate England. That done, Europe is at our feet." – Napoleon Bonaparte, 1797
What if Napoleon really had conquered England as he had planned? When I first came up with the idea of writing Conceit & Concealment, an alternate history Pride & Prejudice variation, I thought the idea of England occupied by Napoleonic troops was an unlikely one. I discovered instead that I didn't know enough about Napoleon. Now I think it's more surprising that he never conquered England.
Napoleon considered invading England at several different times, but his efforts at invasion reached a peak in 1803-5. "All my thoughts are directed towards England," he said. "I want only for a favourable wind to plant the Imperial Eagle on the Tower of London." Using the money he received from the Louisiana Purchase, he gathered an army of 200,000 men known as the Armée d'Angleterre for the sole purpose of invading England. England's army totalled only 132,000. Napoleon's forces spent two years training in various Channel ports, preparing to cross the channel with a purpose-built flotilla including 2,000 invasion barges. It's hardly surprising the British lived in terror of the possible invasion, and many historians believe he would have succeeded in conquering England if he had been able to cross the Channel.
First he needed was to get the Royal Navy out of the way. His plan to gain control of the English Channel depended on drawing off the Royal Navy with a feint. According to his plan, the French and Spanish fleets were to break out from the British blockades at Brest and Toulon, and then sail across the Atlantic with the British navy in pursuit, and finally returning quickly to destroy the few remaining British ships in the Channel. Fortunately for England, only the Toulon fleet managed to break the blockade and follow the plan, so half of the British navy remained in place to defend the Channel. Napoleon lost his opening to cross the Channel.
By that point, the 200,000 man army had been waiting for two years, and Napoleon had other fish to fry. He decided to put off his plans for England and turned the invasion force into the basis of his Grande Armée and marched them east on the Ulm Campaign. Contrary to popular belief, the Battle of Trafalgar in October 1805 did not prevent the invasion. It had already been called off by then, though the possibility of invasion continued until Napoleon's final defeat.
But for those two years the British lived in fear of imminent invasion. They activated the militia, raising 51,000 men, and created a huge Volunteer Corps to defend England in case Napoleon made it across the channel. Fortifications and Martello towers were built along the coast. The government made extensive plans for such things as transporting artillery stores and powder from London, how they would handle payment of soldiers if they could no longer print money, how the Crown Jewels and royal treasure were to be transported to safety, and more.
With the invasion scare so prevalent in England, why does Jane Austen only rarely mention the Napoleonic wars in her novels? The war must have had a significant impact on her daily life. She lived in Bath during the highest risk period of 1803-1805, a time when the fear of invasion was on everyone's mind, and would have been exposed to the constant stream of anti-Napoleon propaganda put out by the British government in an attempt to arouse patriotism. The atmosphere of fear must have affected her, particularly with her brothers serving in the Royal Navy. Although somewhat lessened, the fears of eventual invasion were still present in 1811-12 when the action of Pride & Prejudice takes place.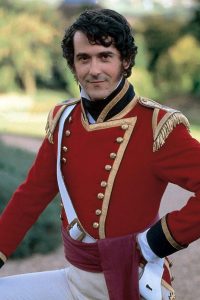 But did she truly fail to mention the war's impact? Her audience at the time would have known the war was an everyday presence for her characters. They would know that Mrs. Bennet had every reason to worry about her daughters finding husbands since making a good marriage was extremely difficult owing to the number of men who had died in the war. That's why we don't hear about many young men in Meryton, at least not until the militia arrives in town.
The presence of the militia is another clue. England didn't have a standing militia, only an inactive one which was called up in times of war, so the mere presence of the militia in Meryton tells us that invasion was a real fear for the characters of Pride & Prejudice. Wickham might tell Elizabeth his chief inducement for joining the militia was "the prospect of constant society, and good society," but the militia presence both in Meryton and later in Brighton tells us the war is still an active concern.
Putting the real possibility of invasion together with Pride & Prejudice made a fascinating basis for an alternate history variation.
---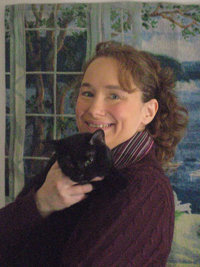 Abigail Reynolds is the nationally bestselling author of 16 Pride & Prejudice variations. Visit Abigail's website Pemberley Variations. Follow her on Facebook, Goodreads and on Twitter @AbigailReynolds
About her latest book: Conceit and Concealment
Pride & Prejudice meets Alternate History

Six years after Napoleon's invasion of England…
Fitzwilliam Darcy is a traitor. He even admits to collaborating with Napoleon's troops. And Elizabeth Bennet despises all traitors.
But Elizabeth can't make sense of Darcy. He doesn't act like a traitor. He risks his own safety to save young women from the French. And how can she despise a man who loves puppies? Something about him doesn't add up – and she finds him far too attractive.
Then Darcy's carefully constructed world crumbles, and he must entrust his closest-held secret to Elizabeth. To protect that secret, Elizabeth must disappear entirely, leaving her family and Darcy behind, to plunge herself into the dizzying world of fashionable London and the dangers of the Loyalist Resistance. Nothing will ever be the same again.
Darcy is determined to find Elizabeth. Now that she knows the truth about him, there's nothing to keep them apart – nothing, that is, until the day Darcy is forced to choose between his country and the life of the woman he loves…
Books by this author: