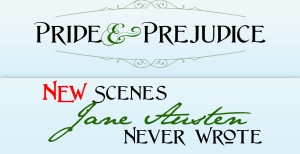 The honeymoon comes to a close and the real work of being Mrs. Darcy begins.
---
---
Elizabeth checked her hair in the looking glass and straightened her dress for the third time. There was no reason for such anxiety, none at all. It was not as if she were going to be presented at court.
In many ways, though, that would be far less demanding. At court, she would only have to make her curtsey and remember all the steps and lines for her performance and nothing more. But here…
She smoothed the hairs on the back of her neck.
Darcy assured her she had nothing to fear from Mrs. Reynolds. Little did he understand the complex and dynamic relationship between the mistress of the house and her housekeeper. No doubt Mrs. Reynolds was well aware that she had not been raised to manage an estate the size of Pemberley. Mama had taught her well, but Longbourn was naught to the vast manor and thriving village that now looked to her to oversee, provide, nurture and educate…
How could she ever undertake such a task? Why did Darcy ever think her up to the challenge? He believed in her, insisted she was capable of anything she set her mind to, a little like Papa. But perhaps, this once, his confidence was misplaced.
The clock chimed. Like it or not, it was time. Mrs. Reynolds would be waiting in her office, and she was nothing if not punctual.
Elizabeth wove her way to the back of the house. At least she had learned enough of the house's layout not to require directions to move from one room to another. The accomplishment felt far more impressive than it actually was. After all, even the lowest scullery maid managed the same task with little effort. What a grand achievement with which to begin her career as Mrs. Darcy.
The housekeeper's office, tucked at the back of the house near the kitchen, looked like Mrs. Reynolds herself, tiny, tidy and treasured. Along one wall, shelves held stacks of neatly folded linens, on another, rows and rows of sparkling china and crystal. A perfectly clean window held sharp winter breezes at bay while a small fire warmed the room to cheeriness. A little plate of Elizabeth's favorite biscuits invited her to the table where Mrs. Reynolds presided. Several sheets of paper lay spread on the desk before her. She squinted through her spectacles and hummed a little tune under her breath as she checked items off a list.
 "Mrs. Darcy." Mrs. Reynolds looked up from the table piled high with journals and ledgers. She rose and curtsied.
"Good morning, Mrs. Reynolds." Her voice sounded far more confident than she felt, but that probably was not a difficult thing at the moment.
Mama had always said the better part of confidence was in one's voice. If one sounded confident, they were half way to being believed competent. That might work for most people, but somehow it did not seem that Mrs. Reynolds would be so easily persuaded.
Elizabeth sat at the table, across from Mrs. Reynolds. A cool sunbeam shone over her shoulder and on to the intimidating pile of paper. "Where do you recommend we begin this morning?"
"Where do you prefer?" She opened several books and laid them out along the table, tapping each one in turn. "Menus are needed for the coming weeks. Laundry is planned for next week—you might wish to review our ways to ensure they meet your satisfaction. Perhaps you would care to go over the newly revised inventory of the larder. We have meats just out of the smoke house and hams curing. The maids are getting ready to change out the curtains for the winter. Would you care to inspect their efforts?"
Gracious heavens! So many books and lists.
Elizabeth rubbed her temples. "I have no idea where to begin."
Mrs. Reynolds pressed her lips and nodded. "It is a lot to manage, is it not? The late Mrs. Darcy found it quite daunting, especially during the visiting months when company would fill the house. Oh, she loved the house parties, but between you and me, Missus, the work would overwhelm her sometimes."
"Indeed?"
"Absolutely. I kept a ready supply of willow bark for her headaches and mint for her digestion. She found her brother, now Earl Matlock and sister, Lady Catherine, particularly – challenging guests."
"Mr. Darcy has never mentioned it."
"His late mother never showed a sign of distress to her family or her company. She faced the trials with every imaginable grace, but make no mistake, it weren't easy for her."
 "Oh." It was not the most original of responses, to be sure.  But when one received intelligence that changed everything they believed about the world, more creative replies were out of the question. "Many have gone out of their way to tell me of what an excellent mistress she was."
"You never saw a more attentive mistress than Mrs. Darcy. She was well loved, indeed. Except by those who tried to take advantage of her. They found her rather disagreeable, I would think. She did not suffer such things lightly. I don't expect you would either." She cocked her head and lifted an eyebrow.
Elizabeth chuckled. "I suppose you are right."
"Pemberley has run for a long time now without the hand of a mistress. The estate, she needs one. I done the best I could, but it ain't the same."
"No one criticizes your service, at least not to me."
"Of course not, I would box their ears if I heard of it!" Mrs. Reynolds threw her head back and laughed.
How delightful that the servants here could laugh. A house needed laughter to truly be a home.
"Still, it is good for a mistress to preside here again. The master, he knows the land and the tenants, but the house—that has always been a mystery to him."
"I fear it may be a bit of a mystery to me as well." Elizabeth shrugged.
Mama would scold her for revealing so much uncertainty to her staff, even though she regularly confided in Hill.  But then, Mama had Hill's respect. Would she ever have Mrs. Reynolds'?
"A clever girl like you will have it figured out in no time at all. I have no doubts." She caught Elizabeth's gaze, though it was entirely improper for her to be so bold.
The dear woman believed every word she said.
"I appreciate your confidence."
"I know the master well enough. He could not tolerate a stupid woman. Only a very clever one would make him as happy as he is now. You have nothing to worry about, Mrs. Darcy. It will come to you. All you need is a little time."
Elizabeth swallowed hard. The approval of a servant, even an old trusted one like Mrs. Reynolds should not be so meaningful. But it was.
"I have just the place to start to." Mrs. Reynolds ambled around the desk to a plain cabinet under the window. "Here it is!" She returned with a worn, red journal and handed it to Elizabeth.
She opened the cover and was greeted by elegant, flourished handwriting. "Whose?"
"I think she would want you to have it. It is the late Mrs. Darcy's common place book."
Elizabeth stroked the fine lettering. Darcy's mother had written this. She flipped through the pages. Receipts, garden plans, directions for her favorite washballs… "Oh!"
Mrs. Reynolds leaned over her shoulder. "Mrs. Darcy made lovely sketches, did she not? We have quite a number of them framed in the house. I will point them out to you when you wish. That one," she tapped the page, "that is the master when he was just five years old. Such a serious little boy he was, but so kind hearted even then. See here, she says it herself."
Such a boy! Fitzwilliam is the dearest of souls. He picked flowers for me this morning. I did not have the heart to tell him he pillaged my kitchen garden. Cook will be happy to know that she will have far fewer courgettes to deal with this year. She considers them a most disagreeable vegetable.
Elizabeth giggled. A young Darcy's earnest eyes peered out from the page at her. He had not changed very much.
"It is good to hear you laugh, Missus." Mrs. Reynolds smiled a maternal smile. "Take that, and get acquainted with Pemberley through her eyes. Tomorrow is soon enough for the menus."
"Thank you, I will." Elizabeth gathered the book and pressed it to her chest.
How many times had she wished she could have gotten to know Darcy's mother, and through her, know him just a little better. Perhaps now she could.
"I will be in my dressing room."
"Shall I send a tea tray up for you and Mrs. Darcy?" She glanced at the book in Elizabeth's arms.
"That would be lovely…and perhaps send this plate of biscuits as well?" Elizabeth picked up a biscuit and nibbled it.
"Those were her favorite as well. I will see to it." Mrs. Reynolds trundled out, probably to get water heating for tea.
Elizabeth made her way back to her dressing room. How pleasant it would be to spend the rest of the morning taking tea with Mrs. Darcy. Perhaps with the guidance of Pemberley's former mistress, she would be able do the role justice after all.