Join me in getting to know Shawn Lamb this morning.

Writing is such a challenging endeavor. What got you started on it and what keeps you doing it?
I've been interesting in writing since I was young. I read every book I could get my hands on. But perhaps the most motivation I got was from my history teachers. Mr. Barefoot and Mr. Gordon were outstanding! We didn't just learn history, we participated. They invented fun ways for our class to re-enact key points in history. Joined with my love of reading, my teachers set me on the course of adoring history!
As for what keeps me going – I cannot not write. Yes, I know that's a double negative, but I can't go without writing. So it doesn't take much for me to get a story idea and want to type away on the keyboard.
What did you do with your earliest efforts? Did anyone read them? Did you still have them?
Some of them I still have. In fact, The Huguenot Sword is the first book I ever wrote. At the time I was 16 years old.  The story was a bit different back then. The grew older and more I learned of the Huguenots, the more the story and characters grew.
My young adult fantasy series Allon, was also started when I was 16. But I wasn't as into fantasy like historical fiction. It was a lark and I set it aside. That was until my daughter asked me for a fantasy, and I discovered I still had the first chapter, map and character names scribbling on paper.  Moral of this – keep everything you write, you'll never know what it will be needed.
What made you choose to write in the genres/time periods you write in?
I became fascinated by the 17th century due to all the books and swashbuckling movies I watched as a kid. Musketeers, Cavaliers, Roundheads, rogues, political intrigue, religious conflict between Catholics and Protestants.  The 17th century was a time of change and invention. Warfare was elevated with musketeers and cannon, but still heavily relied on cavalries. The splendor of architecture was being raised to new heights.  The time was little more civilized in someways but still dangerous.
What do you enjoy most in the writing process? What parts of it do you really dislike?
Creating new stories and watching my characters grow.  I always have an idea of where the story is heading and what I'll do with the characters, but sometimes a character surprises me. Any author will tell you that characters take on a life their own, and at times, this can alter a direction or action. It can be as much fun for me to discover a character as the reader.
I probably dislike what most writers dislike – editing!  With my background as a scriptwriter, I understand the ruthless necessity of editing and can cut when and where needed.  But like I stated earlier, I don't throw anything away. I cut and paste into a miscellaneous document for that particular story. Who knows? I might think better of it and put it back.
If you write in multiple genres how do you make the switch from one to the other? Do you find it a welcome change, crazy-making or a little of both?
Actually, when my daughter asked me to write her a fantasy, I did wonder what exactly to do. At first I didn't remember my teenage story. She liked Tolkien and Lewis, so I re-read them. What I discovered is the stories she liked were based in mythology and rich in history, even if it was Tolkien creating his own. With that, I realized my historical knowledge would come in handy in creating my own kingdom. Knights, kings, castle, clergy, lords, councils, so it really isn't hard to switch between writing historical fiction and Allon.
When foreigners visit Allon or I take the characters to another county, I use my history research and mythology of other known countries as a basis for new cultures. So, I really feel comfortable writing both. That said, it still takes about an hour or so to reorient to being in 17th century France or Scotland from Allon, and the reserve.
Historical fiction takes a lot of research. What is the most memorable or interesting thing you've learned along the way?
For my latest historical fiction Glencoe – a novel, my husband and I traveled to Scotland. It was on a trip to research my husband's clan – Lamont – when I ran across the story of Glencoe.  I became captivated by the real people and events surrounding Glencoe to the point I had to write the story. In fact, it gnawed at me to be told and wouldn't let go. I hadn't experienced that with my other books. Naturally, I love to write and must write – but the drive about Glencoe has to be satisfied.  It finally was with publication.
What do you to keep all your research information and plot ideas organized and accessible?
lol.  I do keep my research, but I wouldn't say organized.  I also tend to buy non-fiction books on the subjects needed for research, and these are often more handy than my notes. I have books on weapons, biographies, costumes, castles, manor house, royal families – you name it. I actually have more resource books than fiction.  That may sound funny for an author to admit favoring non-fiction, but being a history buff, I like reading them.
What's the best piece of writing advice you've ever gotten?
Keep writing and study the craft.  Read books from centuries ago, not just contemporary novels. Revel in older styles and forms of proses. Stretch yourself and enjoy!
Tell us a little about your current project.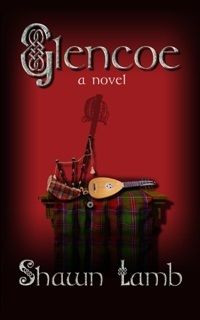 No rest of this author. After the release of Glencoe, we're expanding the Allon line by adding a couple of books for ages 8-10 and an activity/coloring book. I'm still deciding on the next historical fiction, though I've had numerous requests for a sequel to The Huguenot Sword.
.
You can find Shawn online at: