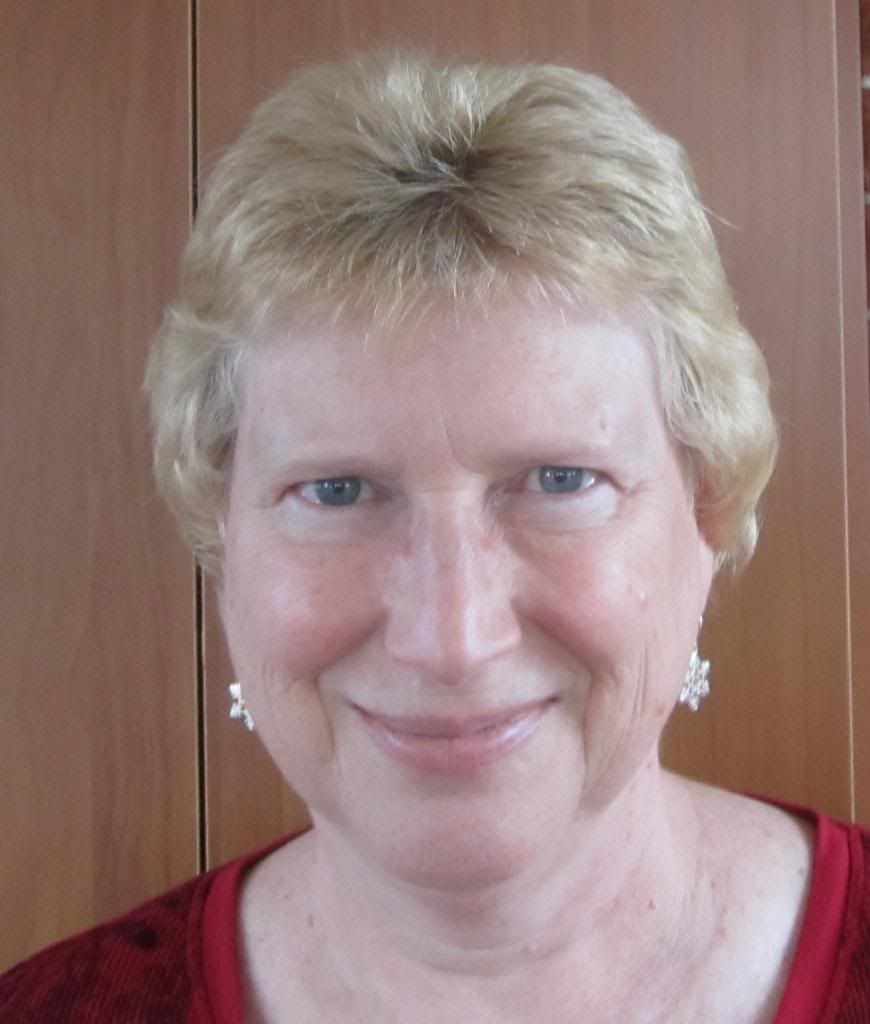 One of the things I like the most about doing my Thursday History a'la Carte post is getting to me the history bloggers I link to. This morning, join me this morning in getting to know one of them, Susan Abernethy.
When did you first discover history so to speak?
I remember it so well Maria!  My parents took me to a lot of movies when I was young.  We saw "A Man for All Seasons" and I remember being so impressed with Sir Thomas More.  Then, a few years later, "The Six Wives of Henry VIII" with Keith Michell was on TV.  I was riveted by the story of each wife and Michell was masterful in his portrayal of Henry.  After that I never looked back.  I read every book I could get my hands on about King Henry, fiction and non-fiction.   Then, "Elizabeth R" was on TV with Glenda Jackson and I started reading about Elizabeth I.  I studied history in college and I've been reading history ever since.
If you were to write the "origin's episode" of your blogging career, what would be the most important scenes?
The most important scene would have to be the very beginning.  I had recently joined Facebook and hooked up with a high school friend.  She had a blog about women's history and kept posting these blog articles.  She happened to put out a message that she was looking for someone to partner with in writing.  Something just clicked with me when I saw her message.  I had never written anything before but I thought I can do that!  I've been studying history all my life and it would be fun to write about it and share my passion for history.  The next scene would be right after I published my first article.  It was about Emma of Normandy, Queen of England.  I went into the blog a few days after it went online and someone had re-blogged the article onto their own blog!  It was very exciting.  Another important scene would be when I started my own blog and posted my first article there.  Interestingly, my first post on my own blog was on Sir Thomas More.
Who are your partners in crime?  What are their superpowers?
This is an interesting question Maria because it's hard to explain.  My partner in crime doesn't have a name.  It's my inspiration, my muse.  It's what helps me write.  My inspiration gives me ideas for what topics to write about and it's fueled by my passion for history.  Once I do my research, it allows me to put the words down on the paper and to give the story my voice.  This inspiration surprises me every day!
What is your secret lair and what does it look like?
Well, my secret lair is filled with books!  Shelves and shelves of books.  I love reading books and doing my research.  Reading allows me to travel through history, to many countries and places and to meet historical characters.  My lair also has a computer.  The computer allows me to work on my writing, editing and publishing and to spread the word about history all over the world.
Can you tell us something about your blog(s)?  What makes it distinct from others?
After writing for the women's history blog for a few months, I felt like I wanted to branch out and write about all kinds of history along with the women.  I started The Freelance History Writer and I've given myself a lot of leeway in what it covers.  The blog covers history from ancient times to mid-20th century.  Because I love the Tudor era of English history so much, I have a section dedicated to that.  My favorite history era overall is medieval Europe and I have learned that other people love this era too.  So I've written many posts on medieval history of England, Scotland and France.  I have a special section on the history of cathedrals in the British Isles and recently started a section on 17th and 18th century French artists like Molière, Corneille, Rameau, and others.  I write about whatever history inspires me.
I think what makes my blog different from others is how I structure my writing. I try to keep the posts to 2,000 words or less and post some interesting pictures.  My style is pretty compact, succinct and to the point and I try to provide just the basic historical facts.  My motto is "Truth is stranger than fiction" and I think the historical record is a great story just as it stands.
How difficult was it to start up your own blog?  What were the biggest start-up challenges?  What are currently the biggest challenges?
Personally, I didn't find it very difficult to start the blog.  Word Press makes the process pretty easy.  The first thing I would recommend is to register the domain name so no one else can use it and that is really easy.  Initially, it was a challenge to learn some of the technical aspects of the computer and the internet, like how to post the pictures and add hyperlinks to the text.  Something that was a challenge and that I had to learn quickly is how to promote the blog and the articles.  The blogging process is really two parts.  One is writing the posts and the other is promoting it.
Right now the biggest challenge for me is trying to decide what to write about!  I've done quite a bit of research and have a list of potential posts I want to work on.  I'm always coming up with new ideas and manage to find more, the more research I do.
What do you love about having the blog and why would people want to hang out there?
What I love about the blog is it's the real Susan!  I had no idea if I could write in the beginning but it seemed from the first post, people enjoyed reading the history.  It's so much fun to get feedback from readers.  And the statistics show people from all over the world are finding the blog and reading the posts.  My mission is to make history fun and to spread the history and my passion for it.  The blog allows readers to maybe learn a little history and have fun reading about it.   If they want to explore further, I list sources at the end of each post where readers can learn more about the topic.
What is your favorite/most memorable thing you've learned through all your studies/blogging?
That is a great question Maria.  Because I started out writing for the blog on women's history, I found that history, for the most part, is written about men.  In the posts I wrote about women, I tried to tell the story from the woman's perspective.  And people seemed to really enjoy that.  Even on my own blog, where I write about men and women, the women's posts get the most views.  Out of my top ten posts of all time, eight of them are about women.
What are you planning for the future of the site(s)?  What future projects do you have in mind?
Just recently, in celebration of reaching 35,000 views on the blog, I changed the appearance of the page with a new theme.  It looks crisper and more professional.  I also have a long list of future posts!  I will be doing a post on a 15th century French battle soon and I'm researching the 11th century German abbess, Hildegard von Bingen.  I find I'm really drawn to the Anglo-Saxon period of history in England and my current ambition is to research and write about some of the Anglo-Saxon kings and queens.  The best part of it all is I'm having so much fun writing, it doesn't even seem like work!  It's a joy and a pleasure.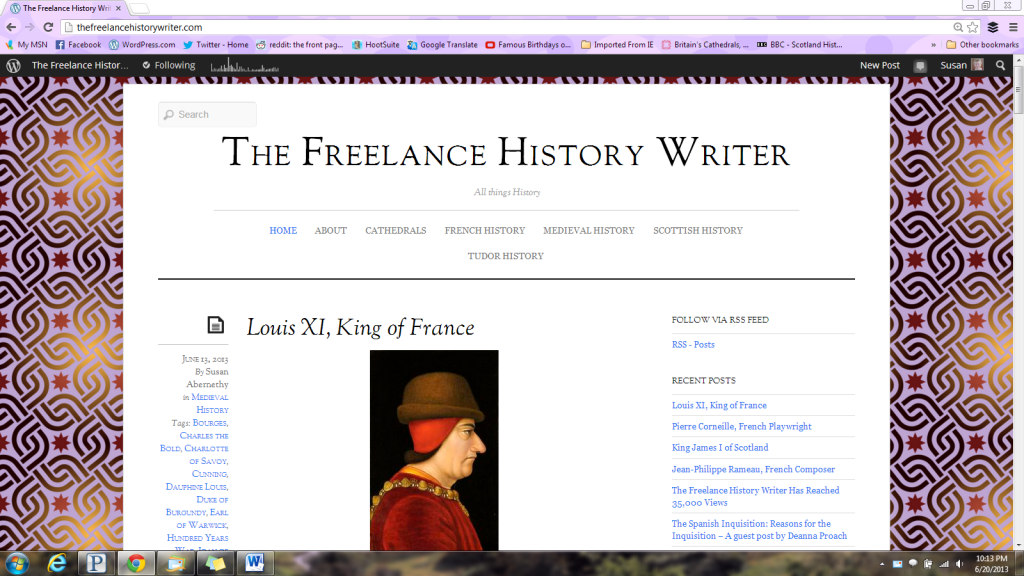 The Freelance History Writer Facebook page:   https://www.facebook.com/thefreelancehistorywriter
Medieval History Lovers Facebook page:  https://www.facebook.com/MedievalHistoryLovers
Twitter handle:  @SusanAbernethy2