Happy Mother's Day! Please help me welcome super mom, Linda Wells this morning.

Writing is such a challenging endeavor. What got you started on it and what keeps you doing it?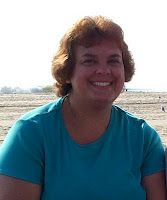 I worked in the environmental engineering industry until I had a son who was born with severe developmental delays, and I needed to stay home and care for him. I found different ways to find some respite, but had not really read anything besides children's books for twelve years.  I read the first Harry Potter book when I bought it for my nephew, and rediscovered the pleasure of escaping into a story.  When I saw the 2005 Pride and Prejudice film, I fell in love with Matthew Macfadyen's portrayal of Darcy, and returned to reading Jane Austen.  Eventually I discovered JAFF and became a voracious reader.  I began imagining my own story, and could hear and see the characters talking to me at the oddest moments.  My husband didn't have a clue what I was doing scribbling in notebooks, and I couldn't really explain it to him, but it felt so good to be focused on something like that.  When I only had twenty-five chapters written, I took the plunge and started posting.  I had discovered the challenging and creative outlet that I was searching for.
If you were to write the 'origin's episode' of your writing career, what would be the most important scenes?
Purchasing Harry Potter and the Sorcerer's Stone for my nephew, catching by chance the end of Pride and Prejudice on HBO one day (and becoming obsessed), discovering JAFF, and finally, watching my hand shaking so badly when I posted my first chapter of Chance Encounters.
Who are your partners in crime? What are their superpowers?
My readers, the people who leave comments as I post my WIP stories.   There is never an outline, and the readers tell me where I'm doing well, where I'm screwing up, and ask endless questions that force me to think in directions I hadn't considered.  The most important readers are the first ones, my betas who often tell me no.
Where is your secret lair and what does it look like?
It's my living room.  Imagine a big loveseat with reference books stuffed in the cushions, maps hanging over the back, Crabtree and Evelyn hand cream at the ready, and a photo of Darcy nearby.  For inspirational purposes, of course.
What did you do with your earliest efforts? Did anyone read them? Did you still have them?
My first effort was Chance Encounters, and I published it because I thought it would be neat to have a copy for my own.  There was a little box on the setup page that asked if I wanted to put it up for sale, and I checked it just for the heck of it.  The last thing creative thing I wrote before that was my senior paper at Penn State for Geography 404.  I got an A+ !!
What made you choose to write in the genres/time periods you write in?
Pride and Predjudice is a Regency story!  Moving it into modern times is a challenge.
What do you enjoy most in the writing process? What parts of it do you really dislike?
I love the brainstorming with my betas, and I love becoming lost in the research.  I dislike getting stuck and staring at a page, willing something to happen.  And I have a terrible time remembering character names!
Historical fiction takes a lot of research. What is the most memorable or interesting thing you've learned along the way?
I try to include as many little fun facts as I can in the stories.  The one that made me say, "ewww" was learning about the chamber pot kept in a sideboard for the men to use after the ladies depart the dining room.
What do you do to keep all your research information and plot ideas organized and accessible?
I have lots of bookmarks in a file specific to each story on my computer, and make use of the notepad feature on my ipad when I'm not at home, for writing down dialogue that pops into my head.  Oh, and I have a very battered notebook that is always next to me.  I really do need to get a new one.
What's the best piece of writing advice you've ever gotten?
Write what you know, and let the characters lead the way.
What have been your most memorable experiences along the way?
Oh, I remember feeling absolute terror when I posted my very first time, and the amazing, wonderful reception the chapter received from the readers.  I remember being giddy and stunned when I sold 100 books (before kindle!) in one month.  And the best experience has been making so many friends, some who have become part of my daily life, all from that connection to Jane Austen.
Tell us a little about your current project.
I am posting my WIP Keeping Calm at AHA and AU.  It is a Pride and Prejudice variation set at the time of WWII in England.  Darcy and Elizabeth meet when she and the Gardiners come to visit Pemberley about seven weeks before the war begins.    It is such a rich time to explore.  The war is the backdrop, but I'm very interested in the home front and the loss of so many of the great estates during the years following the two world wars.
What's up next for you?
After I finish Keeping Calm, I plan to return to Imperative and continue that story.  I've been asked to continue Memory, too, and there is a story I have begun called Perception.  I would love to try something that has nothing to do with JAFF!
You can find Linda online at:
My Amazon Author page:  amazon.com/author/lindawells
My Facebook page:  www.facebook.com/lindawellsbooknut
Twitter:  LindaWells  @booknut893
About Me:  http://about.me/LindaWells.