Please join me this morning in welcoming Mary Lydon Simenson.
What got you started as a writer?
An arthritic knee! I was waiting to have knee replacement surgery, and to fill in time, I started to write my first novel right after seeing the 2005 adaptation of Pride and Prejudice.
 What did your early efforts look like? Are they still around to be used as bribes and blackmail material?
My first effort was a self-published novel that was bought by Sourcebooks and re-titled Searching for Pemberley. I've learned a lot since writing that book, but it's pretty good for my first effort.
Where is your secret lair and what does it look like?
 I share a home office with my husband, and we work back-to-back. There are days when we hardly talk, and others, when you would think we had just started dating! It's a nice arrangement. He's an excellent sounding board.
What are the biggest challenges faced with in your writing?
The biggest challenge is definitely getting out that first draft. The story's there. It's just getting it out on paper. It's very much like having a long and difficult labor.
What important lessons have you learned along the way?
 To thine own self be true. Advice is good, but in the end, it's my story.
What have been the best/most memorable experiences along the way?
Getting to know the JAFF community. I have friends all over the world, and I've even visited with a few of them. Lucky me!
 If you did this again what would you do differently?
 I would never again write a story in the first person as I did in Searching for Pemberley—too limiting.
What is the best writing advice you have ever gotten and why.
Every time I get a bad review, my husband tells me: remember why you write. I just really enjoy pulling together all the threads necessary to write a story.
Tell us about your new book and why we need to drop everything and get it now.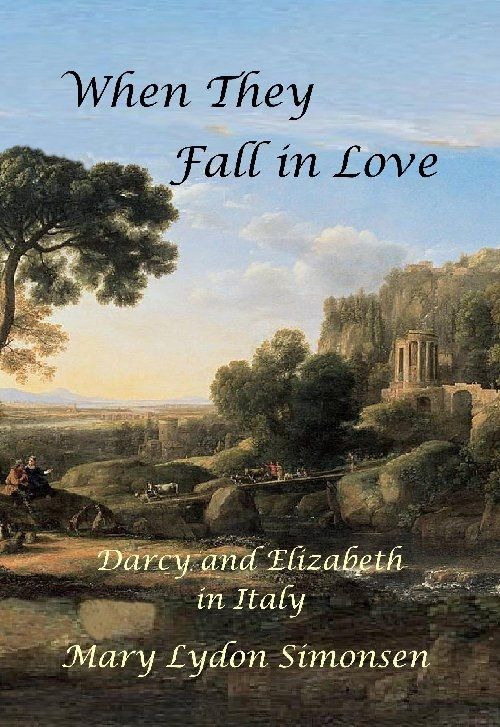 When They Fall in Love is a story about second chances. There is a lapse of seven years from the time of Darcy's proposal to Elizabeth at Hunsford Parsonage, and in that time, life has changed them. It is the older and wiser Darcy and Elizabeth who meet in Florence. And who would not want to read a book about our favorite couple that is set against the background of Renaissance Florence.
What's in store for your art in the future? Do you have any other big projects on the horizon?
 I also write British mysteries, and my next book will be the third in the Patrick Shea mystery series. I am also kicking around the idea of writing a modern retelling of Persuasion set in Hawaii in the days leading up to Pearl Harbor. I love writing historical fiction.
Thank you for having me, Maria. This was fun!
You can find Mary on line at:
Her blog
When They Fall in Love: Available on Amazon –  Nook
Related articles