Please join me this morning in welcoming artist Janet Taylor.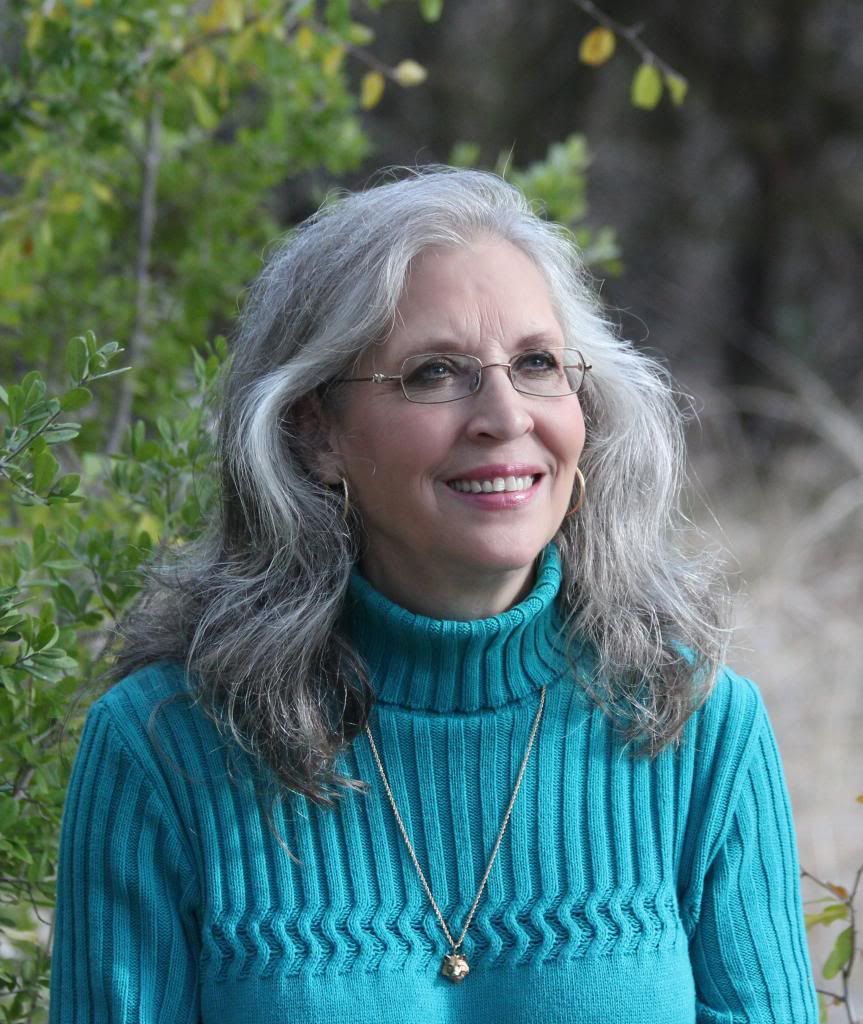 What got you started as an artist? What did your early efforts look like? Are they still around to be used as bribes and blackmail material?
I have always liked to draw, even as a child. Some of my early efforts still exist and are quite entertaining to view. I was going to be the first female astronaut and did many drawings of solar systems and anything that pertained to space. Then I started drawing dress designs that were similar to some of the early Barbie dresses. I came across some of those recently and they did bring a chuckle.  Don't think I would care to share either of those early attempts with anyone!
What got you started along the path to creating your calendar?
A friend, Jan Hahn, asked if I could draw a scene for a possible book cover. After much thought, I decided to give it a try. The fun I had doing that first drawing awakened the desire in me to attempt different scenes from the miniseries. With the 200th anniversary of the publication of P n P coming up in 2013, Jan's original suggestion turned into the making of a  calendar.
If you were to write the 'origin's episode' of your Jane Austen based art what would be the most important scenes?
That's a tough question. I guess one of the most important scenes would be when I found out that I could sell my work. I was in England in August (perfect setting, right?) where I was first told I could sell my work. I was in the quaint little village of Lacock or Meryton in the 1995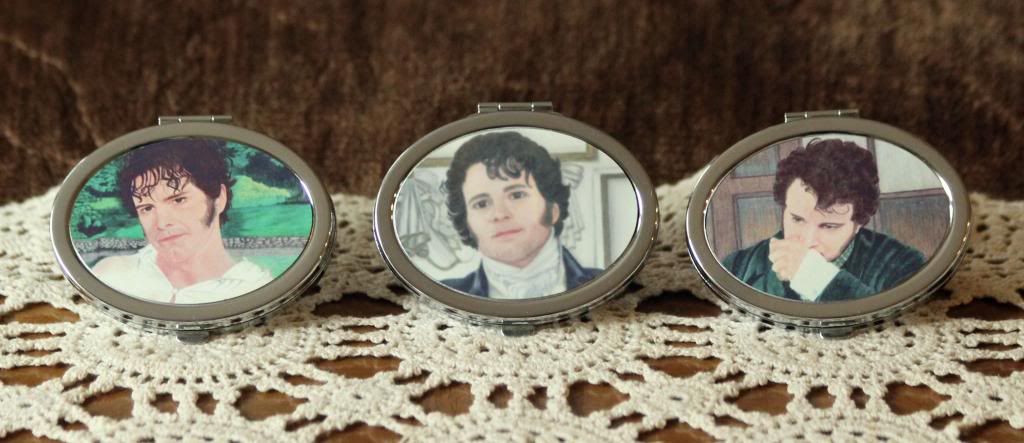 miniseries. I had been viewing the work of David White and was talking about it to Hazel Jones, one of our guides and a Jane Austen scholar. She happened to be a personal friend of his and she felt sure I could sell my work. Unbeknownst to me, she contacted him to be sure. In Manchester, on the last day of our tour Hazel told me that she had heard from David and he said I did not have to have a license. My drawings were my artistic interpretations of scenes from the miniseries.  Later in Bath, at the Jane Austen Centre, I was told the same thing. I was ecstatic. I knew I could go forward. At that time, I had only done three drawings. I came home and got busy on the next NINE drawings.
Who are your partners in crime? What are their superpowers?
My main partners in crime are Lizzy and Darcy as Jennifer Ehle and Colin Firth. There superpowers are getting in my head and not letting me rest. I am never quite satisfied and have to keep trying to fix one more thing…make it better or more like them. Next I would have to add my son and grandchildren as my other partners in crime. Their superpowers are their love and support. They have given me much encouragement.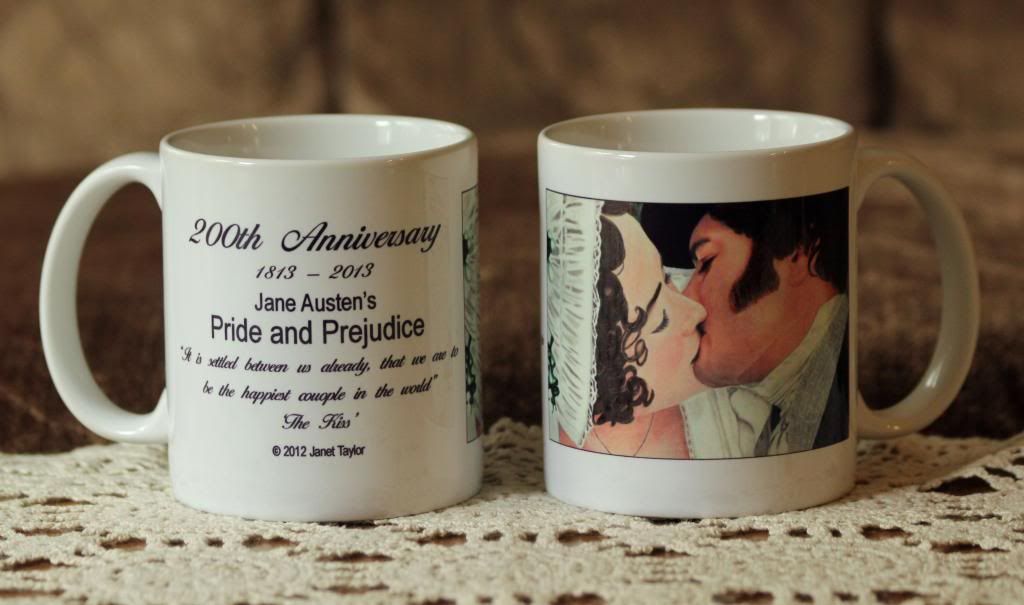 Where is your secret lair and what does it look like?
My secret lair is very special indeed and secretive, too! Shhhh, don't tell anyone, but it's my kitchen table. That can be a problem at meal time but the light is good there and I can spread out. I believe it is occasions such as this that prompted the making of tv trays. Sometimes I draw at my computer but that is when I am fine-tuning details. I will zoom in on the nose or mouth, whatever is giving me trouble at the moment, study it intensely then make changes accordingly.
What are the biggest challenges faced with creating your calendar and notecards?
With the calendar it was time…getting it done for 2013, then finding software that did what I needed. I didn't have either. My calendar was late and I had to do most of the setting up myself. I knew how I wanted it done but could find no software on the market that would do it. With time as a major factor, I had to quit looking for software and get busy designing.
What important lessons have you learned along the way?
Probably the most important lesson in my drawings has been to pay attention to the details. They can make or break the drawing. It never pays to rush. I have to take my time, get it right the first time and be confident of what I am doing. Easier said than done!
What have been the best/most memorable experiences along the way?
When someone likes my work, that is extremely satisfying, especially if it is a drawing that gave me fits! Anytime someone tells me I captured the look of the characters or scene, it makes my day. That was what it was all about.
If you did this again what would you do differently and what would you not change?
I would start sooner!  Second, I am changing my paper. I have been using a textured paper and it is hard to get the pencils to blend as much as I would like. I am hoping this new paper, which is smooth, will help the drawings to look better. I hope my enjoyment of drawing the scenes never changes.
Tell us about your calendar and why we need to drop everything and get one now.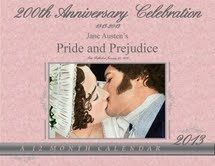 For all of us that love Jane Austen, her novels and other books written about her novels, we are fortunate to be alive for the 200th anniversary of the publication of P n P. This is a very special anniversary. My calendar is a one of a kind P n P calendar. Even though the drawings are from the miniseries and it is not everyone's favorite, the calendar still has much more to it. It has a page of quotes, a time line of JA's life and some historical facts of the time. The drawings and quotes that go with them follow the order of the book. There will never be another 200th anniversary and not another 200th Anniversary Calendar of this kind. It is a unique keepsake. As one recipient wrote me…"Online pictures simply do not do it justice!"  When these are gone, there will not be another printing.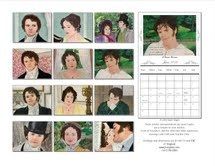 What's in store for your art in the future? Do you have any other big projects on the horizon?
My first big project is to draw Santa Claus. I have been commissioned to do this drawing and was sent a lovely photograph 'of the man himself'! I am looking forward to this drawing and hope to start it next week. Then I will be doing at least two drawings with Matthew Macfayden as Darcy and possibly one of him with Keira Knightley. I want to do a drawing of Jane, Bingley and Mr. Bennet. Someday maybe I will get all the characters done. Big dreams, huh!
I have already started work on the 2014 calendar. I plan to have it ready by late summer/early fall. The Jane Austen Centre in Bath is interested in carrying the 2014 calendar so it will be a priority. Watch my website for mugs, mouse pads and tiles which are coming soon. I am also being sent a neat little compact with one of my drawings on it! That should be much fun. I think I could enjoy having a nice 'Darcy' compact!
Thanks so much for having me, Maria. I have enjoyed being your guest today.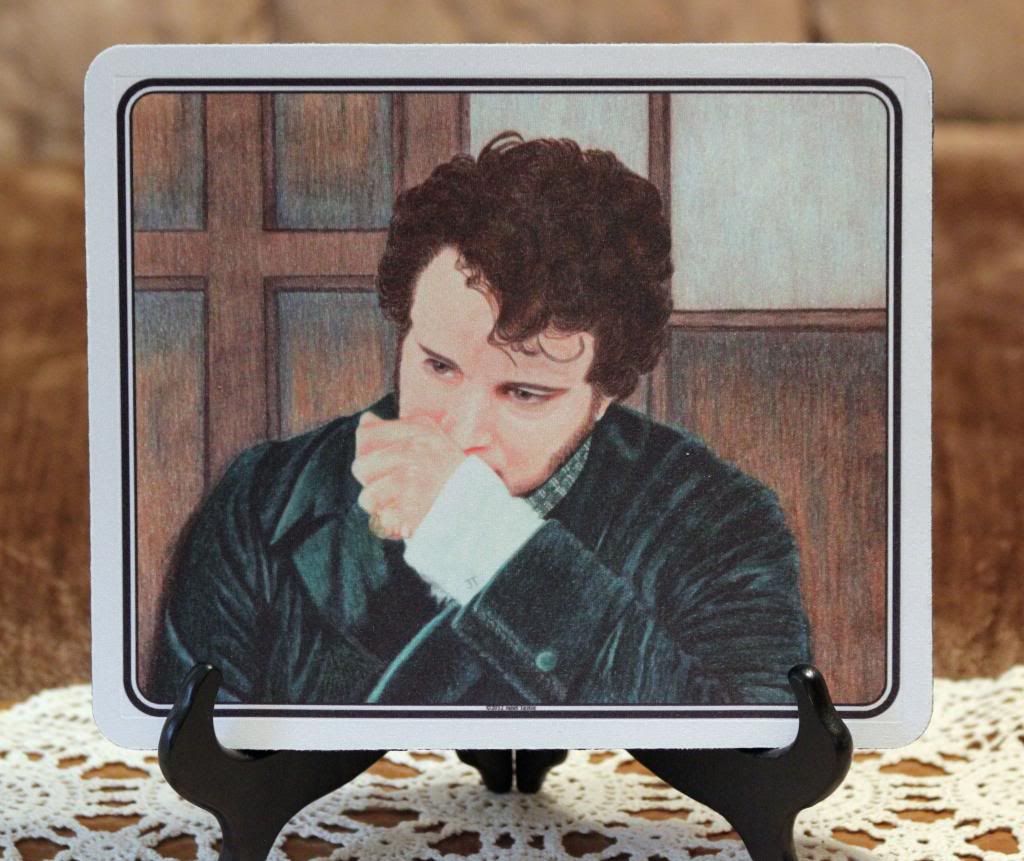 You can find Janet on line at:
Related articles