I am delighted to host the warm and wonderful TJ MacKay, founder of In D'Tale magazine today. I hope you enjoy getting to know her as much as I have!
What got you started along the path to creating InD'Tale?
Oddly enough, I was working as the Special Features Editor for another, traditionally focused  magazine.  I kept receiving requests from authors who had decided to self-pub, however, asking if I would review their books.  Many of them turned out to be every bit as good, if not better, than the traditional ones I was reading for review!  As I looked into the situation more closely, I realized how incredibly hard it was for authors, who may be absolutely gifted but who don't fit the traditional mold for whatever reason, to be successful.  Thus, the germ of the idea took root!
If you were to write the 'origin's episode' of InD'Tale what would be the most important scenes?
 That's an easy one!  There are two very definite scenes that would be crucial in the InD'Tale pilot! 😉
The day that seed was actually planted.  It was January of last year, I was gabbing on the phone with Catherine Bybee, whose book, "Wife By Wednesday" had just hit the top 10 on the New York Times bestsellers list and garnered the honor of being the very first self published romance to do so.  She was all over the place, she was so giddy!  In her exuberance, she made the excited statement, "Oh my gosh, Teej, we just found YOUR nitch!! (she had been pushing me to go out on my own for some time)  This is where you could really make a mark and help indie authors… Start a magazine of your own that helps them get here!!"  Famous last words! (Jury's still out on whether we were both crazy or not. 😉
 The day I approached my friend, Jimmy Thomas and said, "I've decided to publish a magazine for all the self and small published authors and readers.  How do I do it?" First, he didn't laugh me out of the room (for which I'll be forever grateful!) And then,   as busy as he is, he immediately sat down and for the next three and a half hours, brainstormed, taught and discussed every in and out of how to start a business from scratch, right up to setting up a website.  I walked out of that little cafe that we met in with more knowledge packed in this little brain than I thought possible.  But, for the first time, I knew I could actually do it and was excited to start.
Who are your partners in crime? What are their superpowers?
Well, aside from the two listed above whose strength and support are superpowers beyond belief, I have a whole family of partners on the InD'Tale staff that are so amazing!  I could brag all day long about each and everyone.  From Mel Prater who contacted me at the very beginning and asked to be included, (her passion for helping indie authors rivals mine!)  to Tonya Smalley, who, for no other reason than she wanted to see me succeed, offered to do whatever it took to help ease my harried mind…. hah!  Little did she know she would become the review coordinator for the whole shebang! There is also Tammy Grant, who never knew what she was getting into when she friended me years ago on Goodreads.  She is now not only a columnist but the best darn copy editor I've ever seen!
See?  I could go on all day!  Jaimey Grant helps by writing a column AND producing ads for us, Vicki Burg does every little thing that everyone else doesn't have time to worry about.  Not only these but every single reviewer on staff heads up committees that help with social media, promotion, contests… you name it.
And you know the most amazing thing about each and everyone of them?  Not ONE is being paid for their services!  AMAZING, huh!! 'Betcha thought people like that were non-existent in the world today!  Nope!!! I've got 'em all!  We are all in this together, struggling to make something very worthy work and help others.  Their superpowers are all incredible love, support, hard work, kindness…. you get the picture. Every single thing that makes anyone great – they have it in spades! (I'm so lucky!!)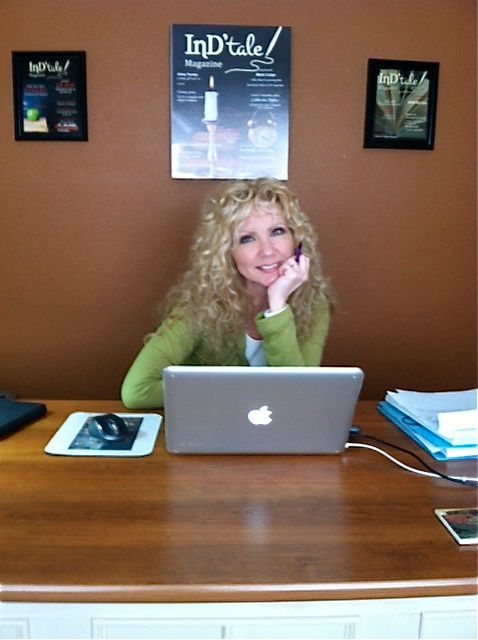 Where is your secret lair and what does it look like?
Hee, hee!  My lair is my home office but I call it "the cave" when crunch time comes each month. 🙂  It's painted a kind of saddle/carmel color and has our first three issues mounted and hanging right behind my desk (a birthday gift from Tonya!)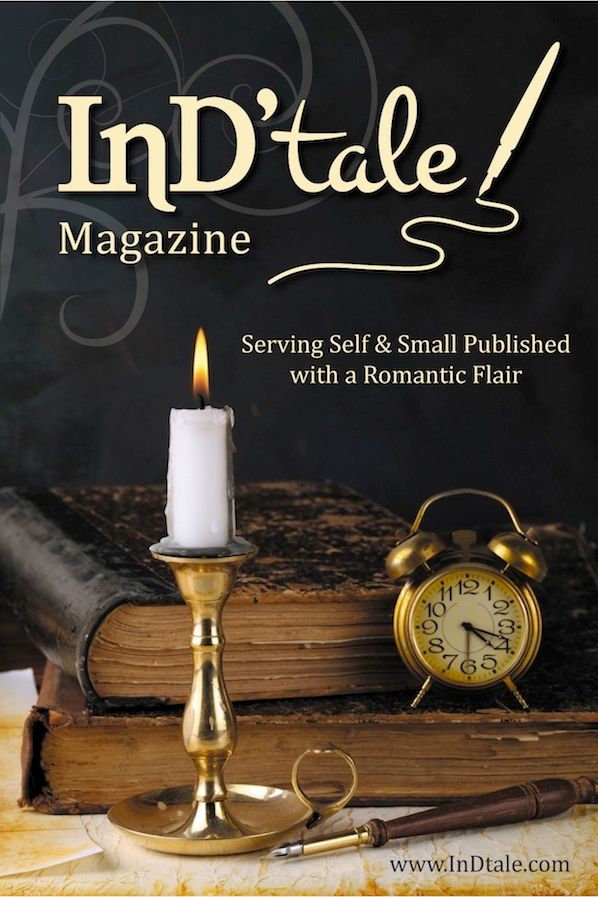 What are the biggest challenges faced with an electronic magazine?
The very biggest challenge is the fact that this had never been done before.  I naively went in thinking a magazine in digital format wouldn't be that hard to create.  Why, I see big magazines in that form all the time!  I learned very quickly that I was wrong.  I found there are print magazines that take their content and transfer it to digital and  e-magazines that work more like a website or blog.  There weren't (at least at the time) any strictly digital magazines that functioned like print but were sent digitally.  BIG problem!!  There was NO technology to support what I was looking for!  I would need to purchase the InDesign suite (very expensive) and pretty much have a graphic art degree to even begin to navigate it, along with a bazillion other things I had NO idea what to do about….. Long answer longer?  After exhausting every single avenue I could (including walking into the Apple store and begging someone just to teach me how to make a page on a magazine) and spending one day crying and praying and crying some more (I had already garnered about 300 subscribers, some important interviews and a pile of books to review at this point, along with a promise that the first issue would publish by the end of the month.)  I sat down with my little laptop computer, facing a blank, white screen sheet of paper and started to create a magazine from scratch, all by myself and on my own (can you feel the terror?!?)
What important lessons have you learned along the way?
NEVER, EVER GIVE UP!!  Also, honesty and kindness cover many, many screw-ups. 😉
What have been the best/most memorable experiences along the way?
Oh, without question the people!  The incredible wonderful authors who I have met over this past year.  The wonderful people who write and thank us for giving them an outlet that will help them shine!  Awesome, beautiful people who love to read and are kind and patient enough to put up with us while we grow and support us in what we are trying to do!
If you did this again what would you do differently and what would you not change?
Gosh, that's a hard one! Each thing I initially think I would change, I couldn't because it has helped me grow and has ended up being for a reason.  I do wish I had had more start up money to pay the people who work so hard.  I've committed to not drawing a paycheck myself until I can also pay everyone else who is working so hard to make this successful.  Those long hours do make it tough, sometimes. 🙂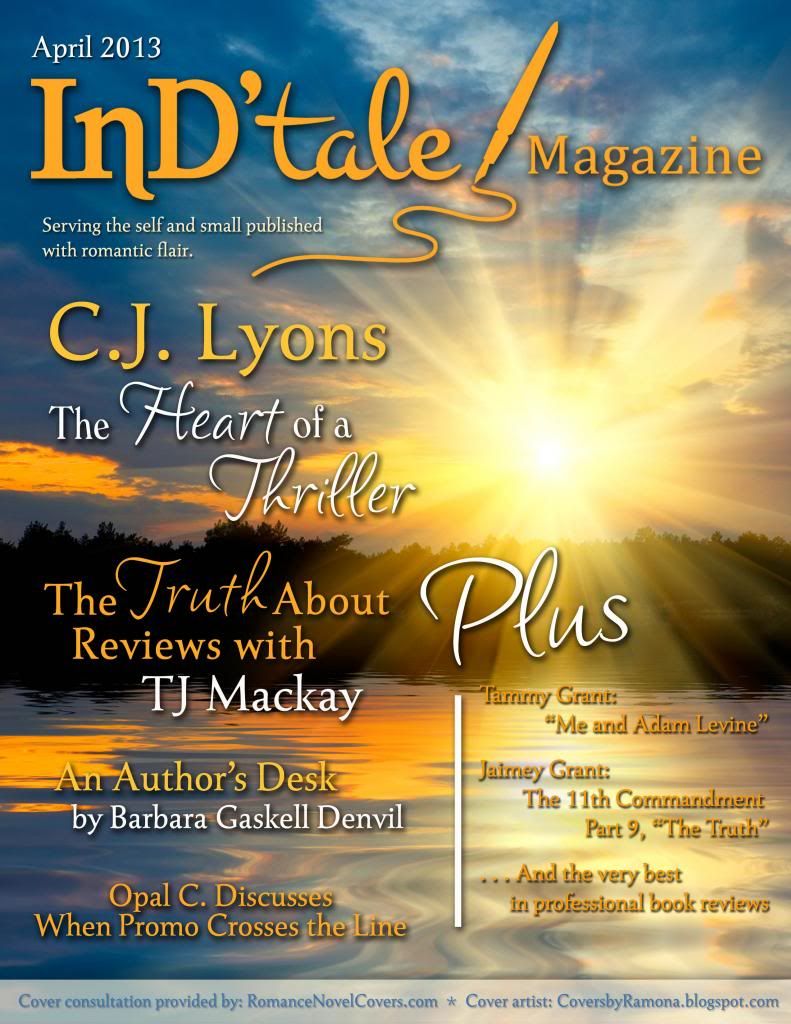 Tell us about InD'Tale why we need to drop everything and subscribe now.
Because it is the very best magazine out there for self and small published authors and readers!  It is filled with awesome interviews, articles, serial stories and professional reviews… SO much to help and entertain!  AND it's FREE!!!  I can't even imagine why everyone doesn't subscribe!
 What's in store for InD'Tale in the future? Do you have any other big projects on the horizon?
Well, of course I couldn't just ease into the publishing world little by little.  Why jump in a pond when you can dive into the ocean (in the middle of a hurricane! 😉  Just month's after our first issue published, we were given the opportunity to be a part of a new and exciting Romance Novel Convention, where indie and small published authors are allowed the same playing field as traditionally published authors. We will also conduct and host the first ever RONE awards highlighting the very best books in self and small publishing.  The judging process is the very best in the industry and the convention looks to be absolutely amazing!

Click the image on the right to subscribe!
You can find TJ and InD'Tale online at:
http://www.facebook.com/InDTaleMagazine?ref=ts&fref=ts
https://mobile.twitter.com/Indtalemagazine
http://www.goodreads.com/user/show/13341540-ind-tale-magazine