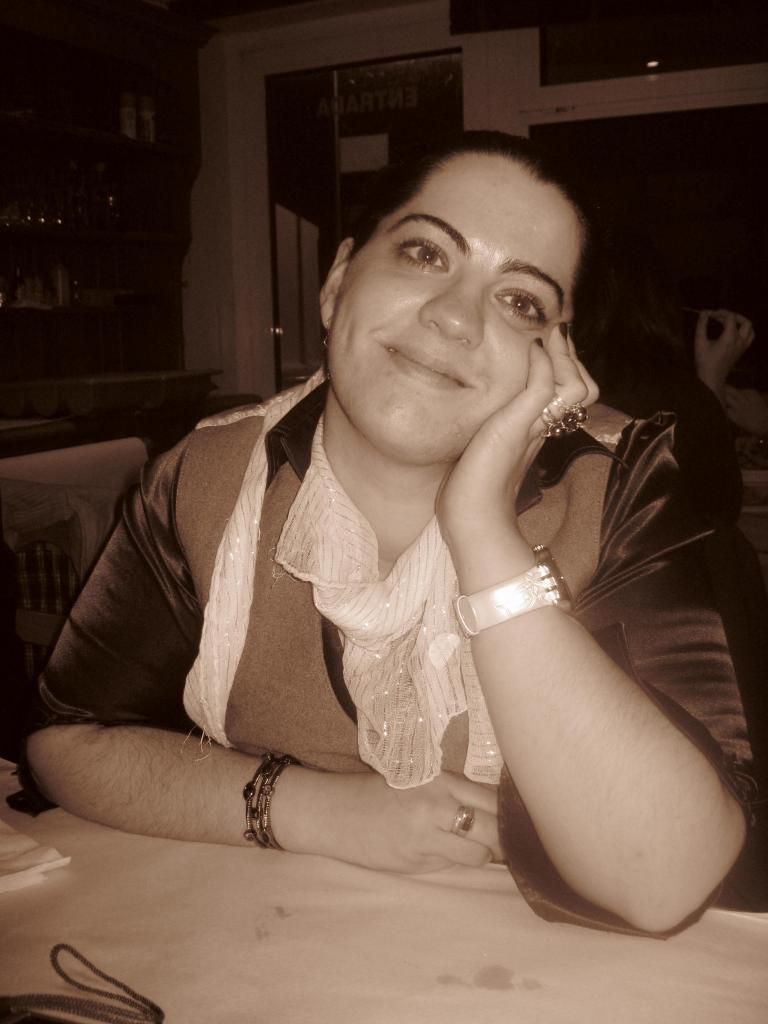 Carolina Cordeiro joins me today. I hope you enjoy getting to know her as much as I have.
When did you first start writing?
I have always thought that every single person is a writer. Now, whether you actually do it or not or if you publish or not, it's a different thing. So, I have written short stories and poems for as long as I can remember. Only this year did I get to be published (so far, the poetry). Still waiting for the answers on my novel.
What did you do with your earliest efforts? Did anyone read them? Did you still have them?
I still have them. All but one that got lost in cleaning the office. Most of them, my closest friends have read and found it funny. Juvenile, all in all.
What made you choose to write in the genres/time periods you write in?
My novel is set in the
Azorean
period of the late XVIII, early XIX century (the best financial period of our archipelago) and I chose to write about that because this specific time/period since I feel quite connected with it. I cannot explain the whys but every single time I see/read/hear something of that period,it hooks me quite bad. 🙂
What do you enjoy most in the writing process? What parts of it do you really dislike?
I love the setting and the dialogues. Set the mood and create the same mood through the characters dialogues and thoughts. The thing that bothers me the most, is keeping track of the chapters, pages and going back to check spelling and grammar.
If you write in multiple genres how do you make the switch from one to the other? Do you find it a welcome change, crazy-making or a little of both?
I don't think. I just feel it. For instance, I set to write a novel (period or contemporary) and I start it and go with the flow. The next day, depending on what I read or heard, I may continue the same or change the genre quite easily. But, for me, it all depends on the mood I'm in. Everyday I write. Whether I continue an old story or a new one it all depends on my day.
Historical fiction takes a lot of research. What is the most memorable or interesting thing you've learned along the way?
While writing my novel, I came across a fictional biography of one of the most important men on the island and I really was amazed with his natural talent to write. He wrote beautiful love letters to his beloved wife and quite effective critics to the government, of the time. Though a fiction, I got to know the man and facts about my country I did not know before. Great, great experience!
How do you get your ideas? Where do you look for ideas?
I get my ideas from novels I read or stories I hear my parents tell my nephews and nieces. Naturally. the fact that I'm a huge fan of Jane Austen and her contemporaries is, by all means, a tremendous influence (a single word or expression, a single simple thing as rereading a small or great scene – book, movie, series)  is enough to get my mind swirling around a new topic.
Tell us a little about your current project.
At this moment, I'm in the middle of volume two of my first novel. I'm also finishing a contemporary novel (this one is totally new for me, since it's only dialogue based – the rest it's up to the reader's imagination). And, on the 28th September, I will have my poetry book launch (to which I'm VERY EXCITED FOR).
What's up next for you?
Still waiting for a contest answer and after that, check which publisher (Portuguese) would be interested in publishing my book. Until then, I am thinking about translating it into English and, who knows, try English publishers. Fingers crossed!
I have a blog, but in Portuguese: http://thewayireadit.wordpress.com/2011/12/23/e-assim-comeca/
You can also check my Facebook at becained@hotmail.com (Carolina Cordeiro) or Tweet cmocord@gmail.com (Carolina M Cordeiro)
Related articles